I started this pet cam, because I love pets, especially mine so it will feature pets I have and/or had. Portals: Petlove
Dexter


This is my lovely double tailed male fish, yes a fish!! Are fish considered pets, yeah I believe so. We got Dexter a few months ago, and he's just been great, he's not messy, makes no noise, doesn't tear up the furniture and doesn't poo all over the place, hehe, na really, he's has his own really awesome personality. He'll dance around in the front of his take from time to time. I hope one day to be able to video tape that just to post it here. I hope to have Dexter for a long time to come.
The Loved
Missing you Bear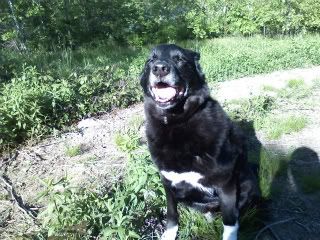 This lovely dog was really more Williams dog than mine and his, when we got together he had the dog, and then when I finally moved in with him, I got to spend a lot of time with Bear. He was such a funny dog, he would sometimes, run upstairs and jump on the bed for a nap. I mean I could hear him actually jump up on the bed, it was so funny. He was such a lovable dog, and I am so happy I had the chance to spend some time with him. Especially towards the end, when he probably didn't want to be alone. He was an old dog, and he became ill, the doctors told us he would suffer, and it would be in his best interest if we put him to sleep, believe me it was the hardest thing to do, I cried and cried, I miss him so much, and I know William does too.
R.I.P Juliet

This is Juliet, she passed away while I was in England, I was going to have her flown to me, but then I got the bad news from my brother (who was caring for her while I was gone), that she disappeared, and well even though she was old, after some time, we assumed she passed away, to this day I don't know what happened to her. So in memory of her loving character and just being such a loving cat, this is her spot in my life. She was 13 when she passed away in 2005, she will truly be missed. She use to love to play outside and lay in the sun just soaking it up, that is how I will always remember her. Maybe one day I will have another pet, and although that pet won't replace Juliet, at least I will have a new furry friend.
Ducky the baby seagull

A pet I had while in England, it didn't stay long, but anyway. This is Duckie as I named him/her don't know what it was but I didn't know it was a seagull and at first I thought it was a duck lol, so I named it Duckie and it stuck even after I found out it was a baby seagull. This was the only pet I had back then, lol, I only had it for a week and even though it dropped out of our chimney I kinda adopted it, but then later realised it needed to be with people that can help it fly and grow, so I gave it up. On June 26, 2007 we (my friend Alice helped me) took Duckie to the RSPCA Wildlife Center and left it to be taken care of. I miss you!!