I have to say that even though this is England the weather the last 3 days has been nothing but sunny skies. It's like yay spring/summer is here. Last year summer weather was quite nice, and it looks like its going to be just as gorgeous today. I went grocery shopping the other day, an as I was walking down the hill I can see at the distance the sea, and it was so nice and clear I can see far far down almost seen a tiny island lol. Well it looked like an island it could of been a boat for all I know. But to me it was breath taking, so I snapped a picture with my mobile camera since thats all I had at the moment. I tried to download my images but I seem to be having software problems and thats making me angry because I wanted to post some pictures of the day it snowed because I've had like winter and summer weather in a matter of a week almost. Thats incredible! I am going to look forward to taking some pictures of whatever I see that I find beautiful this summer. I try to do that all the time actually even if I just got my mobile with me. I should get in the habit of taking my digital camera with me. So much easier to download images lol.
I noticed that there is a new wordpress version out, and I have seen the new look. Omg got to get use to all the new stuff. I want to read up on how its going to affect any plugins I may have installed and if the upgrade will be easy I hope so. I hope to have a chance to do an upgrade in the next couple of days. Like to stay on top of that stuff when I can. Oh I got another picture of Jayden, Omg he's so cute in this one, he has such a cute smile. What do you think? Adorable huh? Yeah just like his aunt hahah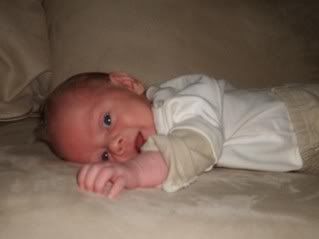 Personally I think he is an adorable baby, and his smile just shines through. Well not much going on. Alice is going to be here for a few days,. we are packing up her stuff so that we can put it into storage since she wants to rent this flat, which is a nice flat and so close to the sea front, you can step out onto the balcony and view the sea front to your left, shame it wasn't in front but still its a breath taking view. I don't know how much online time I'll have but packing takes up time and its so exhausting. We'll try to have fun while doing it anyway, that'll make it less of a pain in the bum. Have a great weekend everyone, and thank you for the comments.